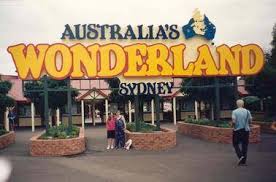 Wonderland Sydney
was a theme park in Sydney, Australia opened in 1985, and closed in 2004.
Roller Coasters
Edit
The Demon (1992-2004)
The Beastie (1985-2002)
The Bush Beast (1985-2004)
Thrill Rides
Edit
Space Probe (1995-2004)
Tasmanian Devil (1985-2004)
Skyhawk (1991-2004)
Family Rides & Attractions
Edit
Snowy River Rampage (1985-2004)
Wizard's Fury (1985-2004)
The Zodiac (1987-2004)
Bounty's Revenge (1985-2004)
Fred Flintsone's Splashdown (1994-2004)
Scooby's Silly Flix (1985-2000)
Skyway (1999-2002)
Ad blocker interference detected!
Wikia is a free-to-use site that makes money from advertising. We have a modified experience for viewers using ad blockers

Wikia is not accessible if you've made further modifications. Remove the custom ad blocker rule(s) and the page will load as expected.