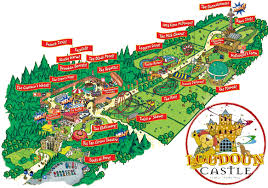 Loudoun Castle
was a theme park near Galston, Scotland, UK opened in 1995, & closed in 2010.
Roller Coaster
Edit
Twist N' Shout (2003-2010)
Rat (2005-2009)
Slitherin (2002-2009)
Gold Rush (2007-2010)
Wacky Worm (1999-2002)
Wacky Worm (2003-2010)
Crazy Croc (2001-2004)
Galaxy (1999-2002)
Thunder Loop Express (1995-1998)
Wilde Maus (1998-2001)
Dragon (1995-?)
Thrill Rides
Edit
Barnstormer (2007-2010)
Black Pearl
The Captain's Wheel
The Plough
The Crows Nest
Family Rides & Attractions
Edit
Loggers Leap
Tractor Ride
Drunken Barrels
HMS Flora McDougal
Pony Express
Jammy Dodgems
Helter Skelter
Ad blocker interference detected!
Wikia is a free-to-use site that makes money from advertising. We have a modified experience for viewers using ad blockers

Wikia is not accessible if you've made further modifications. Remove the custom ad blocker rule(s) and the page will load as expected.