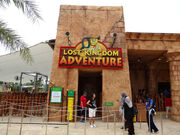 Lost Kingdom Adventure
is a shooting ride at both Legoland California and Florida.
The Story
Edit
Lost Kingdom Adventure and Laser Raiders are jam-packed with some of Lego's best-known characters, surprises galore, and memorable custom music.
Designed in collaboration with Legoland California, this fun-filled interactive adventure brings popular Lego characters to life.  Explorers venture deep inside the ruins of an ancient Egyptian temple to stop evil Sir Sam Sinister from stealing the temple's hidden treasure, and to rescue Miss Pippin Reed, a globe-trotting reporter who frequently finds herself in danger and at the mercy of Sam Sinister. Johnny Thunder, Lego's popular Australian adventurer, welcomes the new explorers and explains the challenge: to save Pippin Reed and foil the plans of Sam Sinister.
Throughout the ride, explorers use laser blasters to zap targets, earning points and causing such creatures as cobras, jackals and mummies to pop up.  Even a mummy who unravels from his wrappings!
Explorers ride in a specially designed four-passenger vehicle that's styled like a classic old-time Jeep.  Along with laser blasters, each Jeep is outfitted with digital scoring panels that track riders' scores.