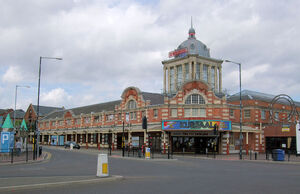 Kursaal Amusement Park
was an amusement park in Southend, On Sea opened in 1901, and closed in 1973.
Roller Coasters
Edit
Harton Scenic Railway (1910-1973)
Cyclone (1937-1973)
Figure Eight (?-1947)
Switchback Railway
Family Rides & Attractions
Edit
Water Chute (1921-1957)
Water Chute (1958-1971)
Rotor Wheel
Dive Bomber
Laff In The Dark (1937-1952)
Aerial Flight (1894-1930's)
Mount Blanc (1933-1973)
Joy Wheel
Ice Toboggan
Wall Of Death (1929-?)
Noahs Ark (1933-?)
Helter Skelter (1933-?)
Sea Plane (1937-?)
Tumble Bug (1937-?)
Stratosphere Rocket (1945-?)
River Caves
Whirlwind Racer
Caterpillar
Ghost Train
The Whip
Bowl Slide
Whirlpool
Ad blocker interference detected!
Wikia is a free-to-use site that makes money from advertising. We have a modified experience for viewers using ad blockers

Wikia is not accessible if you've made further modifications. Remove the custom ad blocker rule(s) and the page will load as expected.