Islands Of Adventure is a theme park in Universal Orlando, Florida opened in 1999.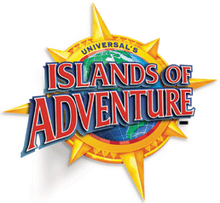 Roller Coasters
Edit
Thrill Rides
Edit
Family Rides & Attractions
Edit
Popeye and Bluto's Bilge-Rat Barges (1999-)
Ripley Do Right Ripsaw Falls (1999-)
Jurassic Park River Adventure (1999-)
The Cat In The Hat Ride (1999-)
Matt Hoffman's Aggro Circus (2010-)
Storm Force Acceleration (2000-)
The Eighth Voyage Of Sinbad (1999-)
Poseidon's Fury (1999-)
The High In The Sky Seuss Trolley Train Ride (2006-)
Past Rides & Attractions
Edit
Island Skipper Tours (1999-2001)
Matt Hoffman's Freakin Crazy Stunt Show (2002-2004)
Ad blocker interference detected!
Wikia is a free-to-use site that makes money from advertising. We have a modified experience for viewers using ad blockers

Wikia is not accessible if you've made further modifications. Remove the custom ad blocker rule(s) and the page will load as expected.