Cedar Point is a theme park in Sandusky, Ohio. It is owned by Cedar Fair, it has 4 hotels, Camper Village & a Waterpark .
Roller Coasters
Edit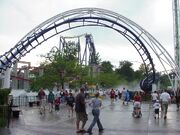 Thrill Rides
Edit
Family Rides & Attractions
Edit
Kid's Rides
Edit
Woodstock's Airmail
Roto Whip
Hot Rods
Flying Ace Balloon Race (2008-)
Peanut's Road Rally (2008-)
Past Rides & Attractions
Edit
Cyclone (1929-1951)
Jumbo Jet (1972-1978)
Wildcat (1970-1978)
Wildcat (1978-2011)
Leap The Dips (1912-1935)
Wild Mouse (1959-1962)
Racer (1910-1928)
High Frolics (1918-1940)
Broadway Trip (1964)
Dips The Dips Scenic Railway (1908-1917)
Scamper (1962-1969)
Super Coaster (1952-1964)
Switchback Railway (1892-1907)
Three Way Figure Eight Roller Toboggan (1902-1909)
Chaos (1997-2010)
Demon Drop (1983-2009)
Earthquake (1965-1984)
Funhouse (1966-1981)
Jungle Larry's African Safari (1965-1994)
Mill Race (1963-1993)
Monorail (1959-1966)
Pirate Ride (1966-1996)
Rotor (1961-1964 by Anglo)
Rotor (1967-1984 by Chance)
Schwabinchen (1970-2002)
Shoot The Rapids (1967-1981)
Sky Wheel (1962-1980)
Star Voyager (1961-1986)
Tiki Whirl (1960-1984)
Trabant (1971-1990)
VertiGo (2001)
White Water Landing (1982-2005)
Aquarium (1970-2001)
Cedar Point Cinema (1975-2001)
Swan Boats (1997-2003)
Disaster Transport (1985-2012)
Mantis (1996-2014)
Turnpike Cars (1965-2014)
Cedar Point holds many records:
Gold Ticket Awards 1999-2013[1]
Second oldest amusement park. [2]
References
Edit
Ad blocker interference detected!
Wikia is a free-to-use site that makes money from advertising. We have a modified experience for viewers using ad blockers

Wikia is not accessible if you've made further modifications. Remove the custom ad blocker rule(s) and the page will load as expected.